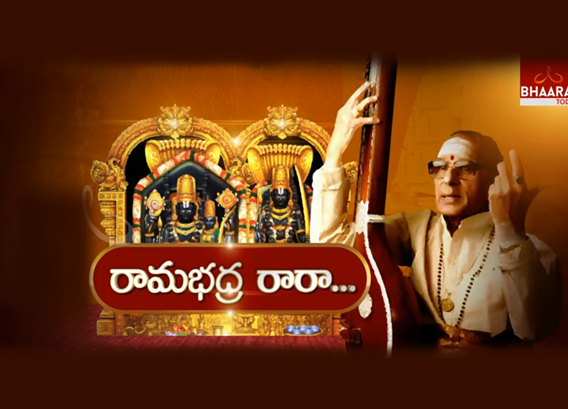 Sri Nedunuri Garu divine inspiration of tuning another 54 Bhadrachala Ramadasu Keerthanas to complete 108 Ashtottara Seetha Keerthanas and offered them at the lotus feet of Bhadrachalam Sri Seetha Ramachandra Swamy.
Unfortunately our Guruvu garu left this mortal form but he always remains alive in his divine Keerthanas. He was bed-ridden by the time he started tuning the second set of 54 Bhadrachala Ramadasu Keerthanas. But Lord Seetha Ramachandra Swamy together with Anjaneya Swamy remained with him and helped guruvu garu in completing the compositions.
Alivelu Manga Sarvaiah Charitable Trust desired to preserve these 54 tunes too. In the absence of Nedunuri Garu, we thought Dr. Seshulatha Vishwanath Garu is the right person to sing these keerthanas as intended by Nedunuri Garu as she was the one who was very fortunate to learn many of these Keerthanas directly from Nedunuri Garu.
With joining of our hands with Bharath Today channel, we framed Ramabhadhra Ra Ra programme in lines with Pahirama Prabho.
Here the episodes begin with the Ashirvadhana Jhasugam by singer Jagadguruvu Sri Sri Sri Bharathi Teertha Swamy Varu and Sri Sri Sri Vidhusekhara Bharthi Teertha Swamy varu followed by Dasarathi Sataka Padyams by Sri Venu Madahav. Then Sri Bachampally Santosh Kumar Sastry Garu spoke briefly on the meaning of the Bhadrachala Ramadasu Keerthana. This is followed by Dr. Seshulatha Garu teaching the Keerthana to her disciples.
We are very thankful to Bharath today channel as it participated in these Keerthanas reaching far and wide.